I went for a run again this morning. I turned onto Spath Rd, on the way to the park – and saw a clump of reflective jackets and a Police Car on that quiet suburban street outside a house.
'Oh no,' I thought, 'What's happened?' I'm aware of various sexual assaults, robberies and other major incidents locally in recent months so I sent up a quick prayer.
Then I saw that in the midst of the four jackets, the purpose for the surfeit of uniformed manpower. One of the four was holding a speed camera to point at passing cars. I found it hard not to shake my head as I ran past and carried on for my run. When I came back a little while later (I don't run that fast), the four were still there together. I decided I should voice my opinion as a local person to them. i realised as I was closer that all four were actually PCSOs rather than Police Officers, though one of them had a white cap on which used to be the sign of a Traffic officer (there are very, very few of them any more).
I am told two PCSOs equals 1 Inspector in terms of how much it costs to employ them. I know many friends who are recently retired (as I would have if I stayed in and did my 30 years) who talk about a wholesale stripping down of the Police Service in their time from what I was proud to be a part of in terms I won't repeat here, the politest was 'castration'.
Many of them are incensed that the man chiefly responsible for the implementation of the cuts that hit where it hurts most was just knighted for it, in a nice uniform he made himself for the occasion that looked very like that worn by the real officers he has decimated by thousands. It used to be an offence to impersonate a Police Officer and they object to this man wearing a uniform others have bled in, died in and been spat on in, to collect a gong that looks the same except with more space for medals and ribbons, though he was never a Police Officer or 'faced an angry man.'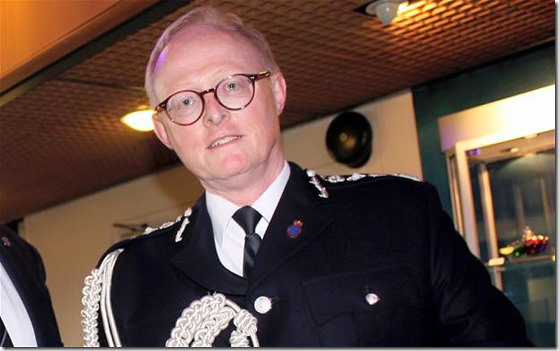 (Sir Tom Winsor)
I had to stop myself from saying what the Police hear too often, 'You should be out catching criminals,' not because the police shouldn't be doing that, but because it's unfair – it's not what these people were ever set up to do. I know this is not the fault of those four individuals.
Yesterday I saw that the Manchester Evening News reported a reprieve on planned further cuts to the Firearms unit, in the light of the terrible events in Paris. I was surprised that they didn't think terrorism of that kind might have been a possibility or issue before that happened across the Channel, maybe they just got the telly fixed at the new Force HQ. That is what I was thinking about while running and perhaps sets the conversation in context.
'Good morning. A couple of months ago I was outside my home being abused and threatened in the pouring rain by a violent stranger. After three separate 999 calls, eventually after 45 minutes a police officer did arrive, found that the man in question was wanted for burglaries and threatening people in the street with an axe, so he arrested him. He dealt with the matter very well but the reason as always given for the delay was that the Police are understaffed and under resourced. Whoever is in charge of your priorities is giving the lie to that.'
At this point the would-be traffic officer shook his head, turned his back on me and walked where he wouldn't have to hear me. Obviously my opinion was of no interest.
The three still standing together looked a little shocked, finally one of the two female PCSOs spoke, 'Actually… we are here… we are here.. because the local Councillor said we should be.'
My reply? "Well that's bonkers. As a former GMP officer can i just say that? I want to support the Police, but it's hard for the public to hear that you need less cuts and more funding, when you four are being paid to stand here while one of you does motorists.'
By the way, before someone asks, I do think speeding is an issue. I have only ever had 3 points on my licence, long spent. I am a careful driver and I do my best to respect the rules of the road. In other places i have lived, concerned local residents have actually been given the speed camera and a little training and warning letters sent to those who go over the limit. Cost to the Police? Negligible. This isn't about that, it's about priorities.
In the mean time, those who wise to overwhelm our streets with terror would be well advised to avoid Spath Road, Didsbury.