(My notes from a great talk by Pete when he recently visited Ivy)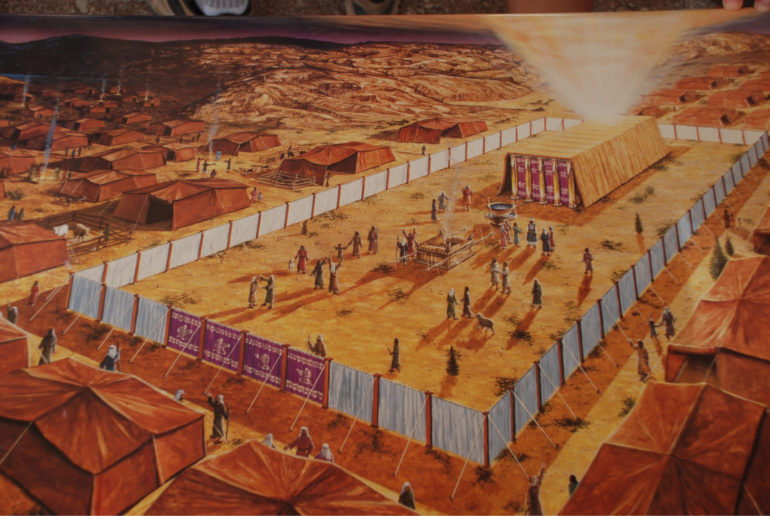 One of the most surprising verses in the Bible is Ex 33:1-3
Then the Lord said to Moses, "Leave this place, you and the people you brought up out of Egypt, and go up to the land I promised on oath to Abraham, Isaac and Jacob, saying, 'I will give it to your descendants.' 2 I will send an angel before you and drive out the Canaanites, Amorites, Hittites, Perizzites, Hivites and Jebusites. 3 Go up to the land flowing with milk and honey. But I will not go with you, because you are a stiff-necked people and I might destroy you on the way."
Nobody has verse 3 on a tea towel: "I will not go with you."
You're on your own. I'm not coming. What's that about? 
Moses says 'No deal! No way! I'm not doing that deal.' I can't lose you.
Even though God said, 'It's all going to happen, every prayer will be answered, but I'm not coming.'
How about us? Would we say 'No! We want your presence MORE than we want the answered prayer."
Moses goes on to say the thing that sets us apart, is the presence of God. Without that, it doesn't matter.
Remember David said, "I will fear no evil"
Why?
Because you are with me. 
He doesn't always come and take us out of the problem – that's a miracle if he does.
But he promises to join us in that place – and that's a miracle too!
To know him, is to know, it's going to be okay. Don't substitute anything for that.  Let's get close to him. That's the invitation- to intimate presence. To choose him, not to choose what he does for me. How do we do that? Three things.
DENY DISTRACTIONS 
Vs 4 When the people heard these distressing words, they began to mourn and no one put on any ornaments.
They get told to take off their ornaments. Their jewellery, which previously they'd made a golden calf out of, so they could look like the people around them. It was what they were doing with their money. Our stuff can be a distraction. This was a weakness for them. Jewellery. That's not necessarily a bad thing. The choice is not usually between what's good over what's bad. It's between what's good and what's God.
Busyness, social media, money, unhealthy relationships, the drive for promotion can become a dangerous distraction. What do we need to lay down? In a time of great transition, as the people of Israel were, they had to refocus. To do that, they needed to get rid of distractions – to choose the presence of God.
Are you in a time of transition?
At those times God wants to say 'will you choose my presence?' Because that's what matters most in those key times. What is a distraction in your life? Is it a sin, an addiction? Lay it down.
PRIORITISE PRAYER (7-11)
Now Moses used to take a tent and pitch it outside the camp some distance away, calling it the "tent of meeting." Anyone inquiring of the Lord would go to the tent of meeting outside the camp. 8 And whenever Moses went out to the tent, all the people rose and stood at the entrances to their tents, watching Moses until he entered the tent. 9 As Moses went into the tent, the pillar of cloud would come down and stay at the entrance, while the Lord spoke with Moses. 10 Whenever the people saw the pillar of cloud standing at the entrance to the tent, they all stood and worshiped, each at the entrance to their tent. 11 The Lord would speak to Moses face to face, as one speaks to a friend. Then Moses would return to the camp, but his young aide Joshua son of Nun did not leave the tent.
Moses trained Joshua to lead in the presence of God. That's what matters most.
When you pray about the big things AND the little things, continually, you will live with more and more gratitude.
Go to the tent of meeting. God is your friend! He wants to meet face to face. What excuse do we have?
LOVE LEARNING (12-13)
Moses said to the Lord, "You have been telling me, 'Lead these people,' but you have not let me know whom you will send with me. You have said, 'I know you by name and you have found favor with me.' 13 If you are pleased with me, teach me your ways so I may know you and continue to find favor with you. Remember that this nation is your people."
Moses is an old man now. He could have thought, 'I've learned a thing or two' but he says, 'TEACH ME!' We can lose that passion to learn and grow.
How's your appetite for God? Ask him to increase that hunger for him.
To say, "I know nothing- teach me your ways.'