Therefore, since we are surrounded by such a great cloud of witnesses, let us throw off everything that hinders and the sin that so easily entangles. And let us run with perseverance the race marked out for us, fixing our eyes on Jesus, the pioneer and perfecter of faith. For the joy set before him he endured the cross, scorning its shame, and sat down at the right hand of the throne of God. Consider him who endured such opposition from sinners, so that you will not grow weary and lose heart.

Hebrews 12:1-3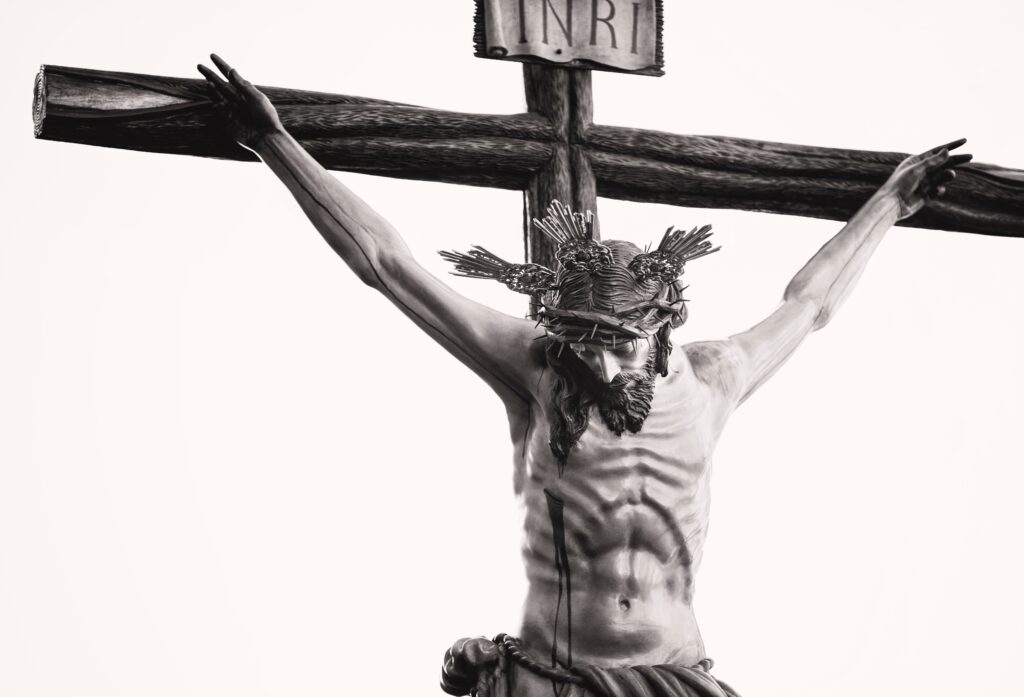 Notes of my talk last Sunday evening at Ivy where 8 wonderful young people were baptised.
Church growing up for me was mostly pretty boring except when they organised discos in the church hall – which Diane Booth might go to. I was made to go to services because it went with the school I went to so I was told some things ABOUT Jesus, but by the time I was heading out of primary school I was pretty sure I didn't want to believe or bother with God.
But I couldn't shake this niggling worry that what if I was wrong – and Jesus really was the Son of God like they said – with all those miracles and the claims he made. I mean, they said Jesus opened blind eyes, healed deaf ears, multiplied a few loaves and fishes to feed thousands of people. Turned water into wine. And he said he's the way the truth and the life and nobody comes to the Father but by him.
So I decided go to church every morning I could before school started right through Lent, and if God was really real then he should do something and show me before Easter.
To be honest I think I only ended up going a few times and looked at this sad statue of Jesus on a cross – up there with nails in his hands and feet for a bit –
and I thought 'Okay, do something – show me a miracle.'
Let the statue speak, or cry … some kind of sign.
If that happened then I knew, however unwillingly, I'd have to believe.
And…
Nothing!!
Okay, cool. I'll get on with life like I am in charge then.
I took my eyes away from Jesus Christ – walked out of church, and didn't go near one for a decade.
Now when you do that, rule God out, you still have problems to deal with and questions to ponder and like everyone else you look to things like politics, science and education for the solution to life's problems.
Because I was not looking to Jesus Christ for that. Gradually my life became all about me.
A man called David Foster Wallace gave a now famous speech to young people and people thought he was an atheist but in it he said: Here's something weird but true: there is actually no such thing as atheism. There is no such thing as not worshipping. Everybody worships. The only choice we get is what to worship.
And the compelling reason for maybe choosing some sort of god … to worship … is that pretty much anything else you worship will eat you alive.
If you worship money and things, if they are where you tap real meaning in life, then you will never have enough, never feel you have enough. Worship your body and beauty and you will always feel ugly. And when time and age start showing, you will die a million deaths before they finally plant you in the ground.
Worship power, and you will end up feeling weak and afraid, needing ever more power over others to numb your own fear. Worship your intellect, being seen as smart, you will end up feeling stupid, a fraud, always on the verge of being found out.
The insidious thing about these forms of worship is they are the kind of worship you just gradually slip into day after day … without ever being fully aware that that's what you're doing.
As I went through my teens I started looking toward doing some job well enough to make enough money to have fun – chasing a happy life as the purpose of life. And the happiness came from trying to make other people happy with me. If it worked. I was trying on lots of different identities every day depending who I was with, trying to keep them all happy with me. Because it was still about me even when I was thinking about them.
When it went well, I was happy. But even during the best of those times very often I'd wonder, "What if they find out?" and "Is this all there is?"
Because I was not looking to Jesus Christ. I was aiming way too low in life.
The late teens until I was 21 are the years where I have the most regrets about in my life. Because I was in charge, but out of control.
I tried to make myself better – and when that didn't work I lowered my standards further and concentrated on trying to just feel better.
Not just doing things I shouldn't, but not doing things I should.
Hurting myself and other people, still trying to find out who I was and what I was here for and becoming more and more lonely because I was self-focused and self-absorbed and that's where that will always leave you.
Because I was not looking to Jesus Christ.
It's pretty unusual to say the least tonight to have all these young people saying they want to follow him and be baptised. Recent figures for the Church of England say 38% of their churches have nobody under 16. Two thirds have less than 5.
Why?
And I know you have great fun here at Ivy youth, friendships have formed and the team are brilliant and have been there for the young people throughout lockdown and no matter what has happened. But tonight is not about table tennis and video games.
The difference here, and we see it tonight when people go in and out of the water, happens when we don't just look at our mates and them cheering, and you're not even looking at yourself – it's about having your eyes on Jesus Christ. The baptism if we understand it properly is actually about the least 'all about me' thing anyone can do. Because you're saying 'I'm dying to me. I need a new life. So it's all about Jesus.
I know that's what the team here want it all to be about. Not just so you know some things about him like I did when I was a child, but to know him – because Jesus is alive.
What's special about today is Easter proves Jesus really is worth spending your life following, because he is the Son of God like he claimed and just as he had predicted and promised many times, he said, "I will give my life and three days later so your sins can be washed away, then I'll rise from the dead."
That first Easter Sunday, the women went to the tomb where he was buried. The stone was rolled away and He was not there.
We've been in a series looking at Peter – he'd just denied Jesus.
"Do you know Him?" "No."
"Were you one of His disciples" "No."
"You were hanging out with Him."
"Not me."
Then Peter was completely transformed – because the tomb was empty and he met Jesus again – Jesus is ALIVE!
I look back at the church I walked away from, and it wasn't really their fault, it just never really sunk in for me that Jesus did not stay on the cross, because Jesus is alive!
I knew some things about him, but I didn't know him.
He isn't a statue. He isn't a list of rules, or a religion.
Easter shows us that Jesus is God – because he is alive!
You can know God – because Jesus is alive!
I want to invite you to say yes to following him too tonight, however young or old you are. He already knows everything about you and he loves you, he wants you to know him.
And everything else we try to worship in this life will let us down – but he never will. 
The writer of a letter to some of the earliest Christians reminded them that whatever we go through, fixing our eyes on Jesus will help us endure somehow. As he endured the cross, which others considered a shameful end – even as he made it for us a glorious beginning.
So in a moment – and I know you didn't expect this but these young people are being courageous and I'll invite you to be brave enough pray with me and close your eyes and put a hand up high if you are joining in as you are sitting there now to say with me:
"Yes please – I want to know Jesus"
– and you raise a hand in the air to say you are joining in the prayer and we have books I wrote for free called Work It Out so you can find out what it means next to know Jesus Christ and that someone would really love you like that.
Enough to die to be your forgiver and then live to be your friend.
That's how much God loves you and that's how much Jesus did to prove it.
He went around inviting people to believe him, he did good, he did miracles saying
Follow me, follow me.
He actually died on a cross, after being beaten and whipped, he went through it all then he rose again and saying it again. Follow me. Follow me.
He's inviting YOU tonight.
I was this young lad looking at a statue saying, 'Do something!'
When all along Jesus had done everything so I could know him. Because that's how much he loved me.
I'm saying to God, 'Prove it!"
And Jesus is saying all along "I already did! I died and rose again!" And he never stopped loving me and trying to reach me. Because he is ALIVE.
It was not Jesus good example or great teaching, it was not even that he died on a cross – it was the resurrection of Christ – that he rose again – that caused the first disciples to say things like, "We are no longer going to just live for ourselves but for HIM!"
They went out as burning young revolutionaries all across the world to change it, because they believed Jesus Christ died for their sins on the cross, but was alive to prove that he really is the Son of God so everyone can meet him and know him!
The risen Christ wants to come into your heart tonight. He is ALIVE!
But all too often people who say they believe in him act and live as though Christ were dead. Like that statue in the church I used to look at.
A dead Jesus will never change a life or make an impact on the world.
However nice and kind and a good example we may think he is.
He is too weak and small; irrelevant. He's too dead.
That weak, emaciated, powerless Christ bears little resemblance to the one who turned over the tables in the temple, then went out into the streets among the sick, the needy and the dying – with healing, love and miracles to break down every barrier and touch everyone.
Especially those who thought they were too far gone.
I was 21 when I first met him – the story of how is in the book, I haven't got time to tell you the details now but up until then I knew about him. And from then on – now and forever – I KNOW HIM! And I know how much he loves me, no matter what. And that love changes you when you get it inside you.
Jesus knows the worst there is to know about me but loves me no matter what – because he is my best and closest friend.
There are millions of philosophers, religious leaders have come and gone in history, some can be wise or helpful. But here's the difference: Jesus is alive.
He died – AND ROSE AGAIN!
His love is strong enough, his power is great enough, to cope with every problem the human race faces. On the cross, the Bible says the Romans put an inscription over Him in Greek, Latin and Hebrew: 'THIS IS THE KING OF THE JEWS.'
They didn't believe it, but the resurrection proved it.
Jesus is King of the universe. He's King of kings and Lord of lords. The empty tomb shows that nothing that's impossible for him. The world tries to offer many Saviours, quick fix solutions, but only he can change our hearts. But we have to say 'Yes, be my King – rule over my life – I put you first' Then we see him start to change everything.
God loves you and wants you to say yes to His love.
The first step is you ask him and it's not just knowing about him in my head it's having him change my heart. A miracle happens when you do.
When I gave my life to Jesus it wasn't a statue that cried, but I wept with sadness over my sins, and joy because he forgave them.
How about you? God brought you here so you would look back years from now on this day and say, "Yeah, that Easter, I met Jesus and everything started to change." He makes you brand new.
Give your life to Jesus Christ today. Ask him to be your friend and forgiver, your Lord and your Saviour. He will do it. Put a hand up toward his help and whatever you are facing, whatever problems may face the world, he is God and he is alive and he can help, making the rest of your life the best of your life by making your commitment and your decision for Jesus Christ.
Lord may everyone here know your joy, your peace, your love, your LIFE!!
Everyone say this out loud with me:
Heavenly Father, wash away all my sins.
Lord Jesus, come and make me like you
As I give my life to You now.
Fill me with Your Spirit so I can follow You and serve You for the rest of my life.
My life is not my own.
I give it to You. Thank you for new life.
In Jesus' Name, I pray.
Hey, if reading this you decide the you want to commit to follow Christ too I'd love to know! Please email info@ivychurch.org so I can rejoice with you as heaven rejoices too!