I was privileged to be invited with a small group of leaders to lunch with Pastor Rick Warren – afterwards there was an 'Any Questions.' Here are my notes on his responses. I couldn't think of any questions so I gave him a hug instead 🙂 
Rick Warren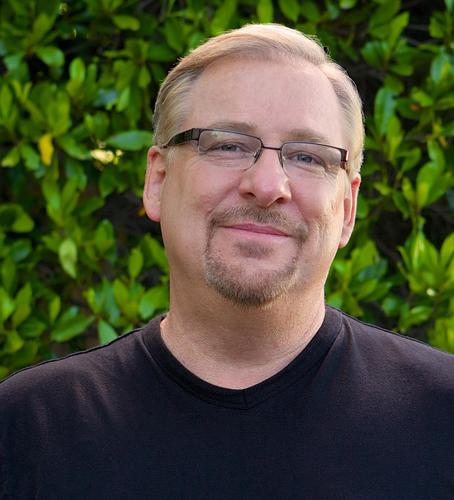 We can no longer lead with proclamation, we need to lead with activity ; in the public square. It's important not to get alienated or partisan.
The local church has to reclaim health care as part of its job. Christians took care of the sick & dying
Why should we help those with mental illness?
Jesus did it – health of spirit, mind and body.
Practically, when the church gets called in to people's troubles, we better be ready and trained to represent him.
Where do you go for help?
Small groups
Everybody has to be in one:
Meet in temple courts (large worship)
And
House to house
Saddleback has more people in small groups than Sundays.
The Pastor has to model this. Go through life together, I was there when they needed me, and vice versa. And when Matthew committed suicide, they were there in 30 minutes. To show up, and shut up
Not to bring words, but a hug.
Small is better in small groups
4 is better than 6
6 is better than 8
10 is too many.
People join a group for content
And stay for relationship
Don't try to recruit for relationship.
How do we encourage honesty?
You create greater relationship by walking in humility; not denying your strengths but being honest about your weaknesses.
I used to think I could never say 'Follow me as I follow Christ'
But now I realise there are no perfect models. So not pretending to be confident, admitting your fears, when people say 'who do you think you are?' Wrong question! 'Who do you think God is'? We are scared, but God wants us to do it
The world is looking for today, in the UK
Is an authoritative message
In a humble personality.
The combination is irresistible
Q: how do we help young people not leave church?
– headline he saw 'If you love Pope Francis you'll love Jesus' The methods change, the message doesn't
Figure out the keys to the heart- felt needs.
Rick was a worship leader first
I'm inner city LA he wanted to reach the gangs – their key? 'Who's strongest?'
So they set up a weightlifting gym
Then there would be bible study
Then they had 'who is strongest' competition
Most churches just say 'take it or leave it' and they leave it.
Gallup asked the whole world 'what's the number 1 need in life?' A Good Job.
Half the world is unemployed
Whoever helps find jobs and creates jobs gets the hearts.
How do we get more of the church to open their homes to the new people?
Pulpit – the rudder of the church. But you have to say it 7 ways before they get it.
Who you want to reach – put up front. When people walk into your church, the first thing they ask is not a spiritual but a sociological but one. 'who looks like me?'
Match your greeters to who you want to reach.