Since coming back from the inaugural New Thing Global meeting I've been kept very busy. There we established the targets of planting 10,000 new reproducing churches globally, by the end of 2020.
My faith goal in that was 250 across Northern and Western Europe.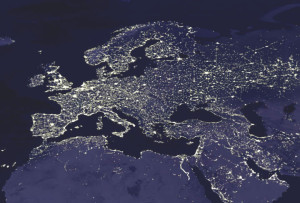 That seemed a stretch for me because Europe is, according to Patrick Johnstone's great new resource just about the only bit of the world where the church has been on the retreat and decline in the last 50 years. It's time that changed, and my friends Oscar Muriu from Nairobi Chapel Kenya and Dave Ferguson from New Thing USA stepped up my challenge to make it 500. (Thanks guys!).
2020 seems like a short time scale for a big scary vision (what I called New Thing Europe when I spoke at Ivy on my return), but it's great to be able to reflect here and give thanks for just some of what's happened toward its accomplishment in just over a month!
I got back tired and feeling a little rough so spent the first day back from Africa praying. That same day out of the blue an invitation came to connect with Jonathan Oloyede, conveyor of the National Day Of Prayer and a church planter across London. I met with him the very next week and it was like finding a brother! I met again with him on Saturday and he is very interested in partnering with New Thing UK.
On the way to meet Jonathan I 'just happened' to read this when praying about the 2020 vision (2 Chronicles 20:20) 'Believe in the Lord your God, and you shall be established; believe His prophets, and you shall succeed.' So I'm believing what God has said, and listening to what he says through His people!
After talking with the elders and staff at Ivy (who are the best!) and getting their full backing I outlined to Ivy at our AGM the Big Scary Vision. People loved it! I was stopped in the car park by Nat, who has worked with YWAM for years and just arrived recently at Ivy, he said 'I'm in, I'll serve, I'll do what you want or need to help.' And he is doing! (Thanks Nat).
I had appointments then in my diary filling up with some amazing talented young leaders of incredible promise, many of whom are now seriously considering becoming our first cohort of Leadership Residents based here in Manchester from mid September. (Interested in joining them? Email claire.webber@ivychurch.org in the first instance). There's also the possibility this may be an international thing already as one of the applicants we are looking at doing a year here is from Nairobi Chapel!
I met with my unlikely friend (former armed robber turned pastor) Paul Lloyd, who leads the Victory Outreach church here in Manchester ; what an amazing church- so many stories of complete turnaround there from the most broken backgrounds, Jesus doing what only he can do. Paul is now responsible for their churches across the UK and Europe, we are going to write a book together, and he's in!
I got invited to a small conference gathering church planters from across Europe meeting in Germany in April where I hope to  touch base again with my friend Alan Hirsch, can't wait for that.
We recently met and networked with leaders to discuss New Thing UK helping a brand new church planting effort in Hull, and existing ones in Birmingham, London, Cheshire, Bristol and Bath. One of those has already planned a new church plant and another is to multiply from 1 to 3.
My wife Zoe has given up a day from her work as an eye nurse to help me on this – Hooray!!
I'm following up possibilities in Europe including Germany, France, Sweden and Greece.
Next week I'm speaking all week at the leadership stream at Spring Harvest and doing a seminar of church planting for the C21st.
UCB are going to give to New Thing Europe the rights back for the evangelistic and discipleship resources I've written so they can be translated across the continent.
We had two guys turn up at Ivy, both early twenties, with 4 years theological study behind them – ordained in the Orthodox church but here in Manchester as part of their training. God led them to our door at Ivy and I don't know what that'll end up looking like but they speak multiple languages (Jason Bournes for the Kingdom of God). They were in our prayer meeting last night praying in Romanian and Ukrainian for New Thing Europe! Another young evangelist prayed in Portugese.
Last night Ivy was packed out for our IvyKinetic prayer meeting. I outlined how one of the greatest proofs of the resurrection is the remarkable growth of the early church. When it was not about steeples but people, when they were not about meeting places but meeting God. A great big God who is Sovereign and has never changed.
Back then a Spirit filled, united, prayed up, boldly led movement – changed the world. It was an unforgettable night and left us with the firm conviction, as my buddy Andy Hawthorne said last night, 'It's gonna happen again!'