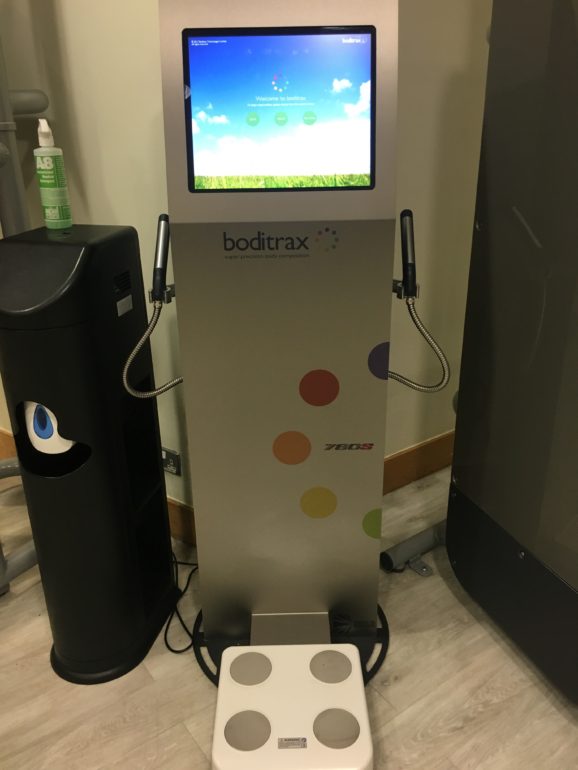 I started my talk at the LAUNCH conference by talking about this machine. Two years ago, overweight and with blood pressure on the rise, I stepped on it and held the handles. There are lots of machines in the gym but I hated this one, because the readings were not pretty. I was 50 but the machine said I had the body of a 51 year old. What do you do?
Resign yourself to the inevitable? Go to the cafe at the gym and buy a donut?
Resolve to never go on that machine again?
Or – CHANGE.
I stopped some things, and I started some things. That's a strategy.
Dietary changes. I got coached toward a new exercise plan – and worked it. I stopped drinking alcohol (that's a lot of sugar!). I drink a lot of water. This changed my results.
I went on the machine today. 2 years on, my 'metabolic age' is 36. If I carry on, in a few years time I'll be 21!  Maybe not. But with all the hard work of the conference I wasn't able to exercise this week like I wanted to, so I checked the results today to see where I'm at. I used to hate that machine but now I find it motivating – to look back at where I was and to know where I am now, pushes me toward the future and helps me maintain the disciplines that drive the changes for the better.
I have had so many kind emails and messages from leaders who were delegates at the Launch conference. Personally I found it hard to do my own part in it at times because I was so mesmerised by the other speakers and trying to process their incredible content! Many have talked of how at Launch helped them using phrases like their vision has been renewed, their skills sharpened, their goals have been energised and enlarged, their purpose realigned to cut through the limitations that were holding them back. New partnerships have begun, networks strengthened and reestablished, hope restored.
Wow! What a privilege to be able to part of a team to serve leaders in such a way – not just to motivate, but to get different results!
We showed just some of the disturbing figures of decline that a 'going to church' mentality has brought us to in western Europe – and began to imagine together what it would look like to make disciples who make disciples, raise up heromaker leaders, who plant reproducing churches toward multiplying movements. A leader's job is to see what is (confront the brutal facts without losing hope), then have a God sized dream of what could be – and do whatever it takes to close the gap!
I want to continue to do what I can to help people do that. This Friday evening I'm putting on a free seminar at Ivy to share whatever I've learned about communicating at Ivy. I'll do more 'Transform Leadership' events here too. We already flagged up the Maj. Floyd Woodrow events on the 1st and 2nd Dec to follow up and plan toward next year. As NewThing we'll be hosting intensive two day 'Catalyst Communities' for senior leaders and teams to plan toward multiplication of church plants in 2018 (email me if you're interested in that).
But before you start to plan where you want to be, you need to get real about where you are now. If you go in a Mall, the first thing you need to find on the Map is 'YOU ARE HERE.' Leaders too often shy away from that. But we need to step on the scales now and start to take some measurements. The process NewThing offers has various tools but one of the most important is an MRP. This has been so helpful for us at Ivy as few have grown out from one location.
My Reproducing Plan details eg 'How many church sites you're presently meeting in?' Then you prayerfully make some faith driven goals for what it's going to look like a year from now. You step up on the scales. Assess where you are now. Then discuss and decide what and where next.
For leaders, knowing where you are now is vital. Feedback is the breakfast of champions! You can't go off how you feel. It's so important to step up on the scales and grab the handles regularly to ask questions like, 'Is what we are doing what we should be doing?' and 'Are we being effective not just keeping busy?'
This blog from church leader and planter Andrew Owen from Scotland sets the tone for some of the kind of questions we should ask to give us better readings as we use our gifts and unleash God's people to build the Body.
What other kinds of questions should we be asking regularly to help us assess where we are, that would give us not just motivation for change but the strategy for where God wants us to go from here?