WHAT'S HIS NAME?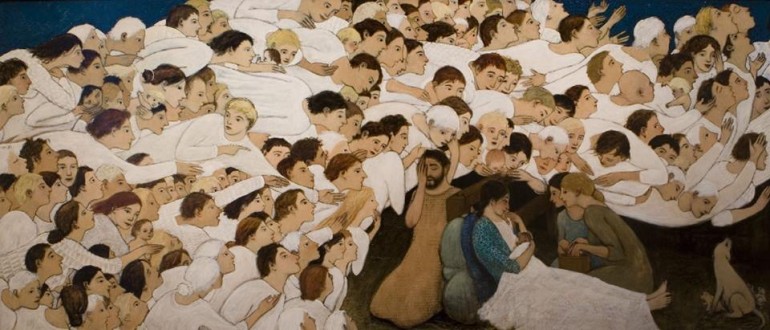 Any Josephs in the place tonight? Mary? Carol!?
Anyone called Jesus? No, it used to be common – but he's pretty unique… he kind of cornered the market on that name. It means 'God to the rescue.'
Does your name mean something? Do you know what it means?
Years ago I asked a bunch of school kids who Christmas was really all about. Someone said Father Christmas of course. Then, a little boy put his hand up…'Oh, It's… it's wassisname!'
I want to start by telling you about a vision a man called Isaiah had, we heard something of the words he wrote earlier. By the way the Jewish people made sure their names meant something. Isaiah means, 'God is salvation.' He was a prophet, he spoke & wrote around the C8th years BC – what does BC mean? Before Christmas! Every time you write a date it's saying something about that event that spilt time in two halves forever; the birth of Jesus Christ.
But centuries before he was born…. the nation of Israel was living through a time of darkness: their King was dead, and it was a dark time. The darkness of sin, oppression, hunger, and ignorance. (Gloomy time). God revealed himself to Isaiah in the darkest times in powerful ways so he was able to speak to a people who 'd given up hope, a people filled with despair, a people who'd forgotten God. He told them about a light – the light of the Messiah – that would chase away the darkness. He said because of him there would be 'No more GLOOM!' Imagine that kind a world!
Why? Why would the gloom be scattered?
Isaiah 9:6 For to us a child is born (a real, human birth), to us a son is given (He was always God, but not always a man!), and the government will be on his shoulders. (I was quite amazed whatever your politics are to hear the Prime Minister's speech last week where he said – and I quote: "We are a Christian country. And we should not be afraid to say so.")
This verse is a reminder that despite the terrible things that can and do happen in the world, economies in turmoil. wars and rumours of war, injustices and oppression – God still has POWER! God's got a PLAN! God is LARGE and IN CHARGE! 🙂
So, hundreds of years before Bethlehem and shepherds and Herod happened, Isaiah's praying for his nation, praying for hope, praying for an answer from heaven – and he sees – a baby!
What do you ask, when you see a baby? What's his name? Isaiah didn't know the baby's name, but he knew what the baby would be called…
"And he will be called Wonderful Counsellor, Mighty God, Everlasting Father, Prince of Peace."
That's a lot of names!
What's his name?
He is called Wonderful COUNSELLOR – when I need WISDOM! 
TalktoaCounsellor.co.uk. recently published research that says millions of Britons they surveyed find Christmas a highly stressful event, they say, … "More than half the people surveyed reported their biggest comfort as they struggle through Christmas is the knowledge that it won't last that long." Maybe that's why they say so many people need a counsellor!
God isn't just a Counsellor – he's a Wonderful counselor! I've received so much Counsel from him over the years – Miraculous guidance, direction, comfort – when I need that – when I'm not sure where I've been or why that happened like it did or what to do next – God tells me I'm NOT ALONE! I can ALWAYS, anywhere, any time – PRAY (If you can worry, you can pray – worrying is just praying to someone who can't do anything about it) and when you pray you find…he's a wonderful counselor. Better than any human advisor!
What's his name?
He's called MIGHTY God (literally– 'powerful Almighty') when I need a MIRACLE. My God is big enough, to become small enough, to save us. If that can happen – and it did – there's nothing too difficult for God.
Don't settle for less than a God who can do miracles! If your God can't do a miracle – he's not God! If your God isn't big enough to do miracles, believe in mine! Believe in the one Isaiah saw, the one the angels sang about! Mary was told, 'You're going to have a baby!'
She asked, 'How? How can that happen? I'm a virgin!' The answer?
'GOD will do it! NOTHING is impossible for God.' (You have a question tonight? I have an answer! About the Bible, about God, about prayer – the answer is; the God of the impossible! What is it? Your God is too small! The real GOD can do it! He's the powerful, Almighty! That's his name!
What's his name?
You can call him Everlasting FATHER – when you need LOVE.
A love that never fails. There's a Psalm that says, "The LORD is gracious & compassionate, slow to anger, abounding in love….he does not treat us as our sins deserve … As a father has compassion on his children, so the LORD has compassion on those who love him" … maybe you've never known a father's love like that?  Compassionate love from a father is all too rare these days.
But now everyone can know that love. It's what the first Christmas was all about! I loved my dad, and he loved me. But now, a few years back, he died, I miss him every day. But when I need to know the strong love of a father (and everybody does), I have an everlasting father!
Think of what this means. Always and forever we can look to Him to provide our needs. Always and forever we can expect compassion from Him. Always and forever we can come to Him for mercy and love and forgiveness.
Maybe this year has been a dark year for you? The people who heard that message from Isaiah, they'd been walking in darkness – but then the lights came on! Now they had something money can't buy! HOPE!
But for hundreds of years, they didn't see the baby born. That's a long time to wait for a present. It's a long time to be pregnant with a promise!
The people were waiting. Expectant. Waiting for the Messiah to come. Hoping that God would somehow, one day, step in… maybe you've been waiting for God to step in?
Could it be you're not here tonight by accident. You're here because you need wisdom. Counselling. A miracle. Love. That's what you've been looking for. Some people have been waiting a looonnng time. Waiting for something to happen.
We're singing here tonight because – it HAPPENED! It happened 2000 years ago – the God you've been looking for – has come looking for you!
Do you know his name?
The good news of Christmas is that the God you've been looking for – has come looking for you!
Isaiah looked and saw something ahead of time – in some mysterious way, 2750 years ago, he saw what God was going to do that first Christmas. A baby, a son! One who'll be both MAN and God! And read through what Isaiah wrote and you see he also says there he'll come from a place called Nazareth…
More specifically, he'll come from Nazareth – but be born in Bethlehem! (cf me – I come from Mcr/ born in Ipswich).
Isaiah says he's going to be born to a virgin, that he'll be sinless – but one day he'll suffer and be flogged and beaten – for the sins of people like you and me who go astray. That he'll be wounded for OUR transgressions, bruised for our healing!
Isaiah somehow glimpsed all of that – wrote it all down – how can that be coincidence – that it happened just as he said? He wrote all that down, hundreds of years before Jesus was laid in a manger or walked the earth or was nailed to a cross or rose from a tomb. Check it out! He described what was going to happen in detail!
He said a child will be born, that's what it'll look like to us. But on God's part – a Son will be given. Because God so loved the world that he GAVE his only Son, so that whoever believes in him will not perish but have everlasting life! He will be called a Wonderful Counsellor, the Mighty God, the everlasting Father!
What's His Name?
He didn't finish there! Isaiah said another name for the baby. He's the Prince of Peace! Because you can't have peace on earth, without Peace with God, so God came to earth, to bring us peace. To bring people who have rebelled against him BACK to Him!
The angels told the shepherds that heaven had a message of PEACE and GOODWILL to all people! Anyone been looking for Peace tonight? Where are you looking? This child has been born, this Son has been GIVEN! And he's the Prince of Peace, the government is on his shoulder! Whatever is happening in the world. His reign is ever-increasing!
The God you've been looking for – has come looking for you! Foretold in prophecy, Jesus came in history –so you could know the mystery – how much God loves you!
Let's read together how it happened: look at your sheet please: Remember how Joseph came very close to rejecting Mary and the child she was bearing!? And when you think about it, who could blame him? It sounds like some dysfunctional family on Jeremy Kyle doesn't it? Teenage pregnancy, family disgrace… a broken promise… the weddings' off! These days they'd have Joseph on daytime TV having the DNA test to prove it wasn't his…
Who's the father?
Joseph? (er-errrrh!)
Our survey says… GOD! This baby has Divine DNA…. A VIRGIN BIRTH!
But they didn't have DNA tests then. All he has to base his faith on? A dream. In a dream, the angel says to him…
Matthew 1:20. An angel of the Lord appeared to him in a dream and said, "Joseph son of David, do not be afraid to take Mary home as your wife, because what is conceived in her is from the Holy Spirit. (he's the Everlasting father – the MIGHTY GOD! So nothing is impossible!). She will give birth to a son, and you are to give him the name Jesus, because he will save his people from their sins." All this took place to fulfill what the Lord had said through the prophet: "The virgin will be with child and will give birth to a son, and they will call him Immanuel" —which means, "God with us."
Men (can I just talk to the men here)- if God spoke to you – what level of 'proof' would he need to give you – before he got a courageous faith response out of you? // Joseph was man enough to lead his little family spiritually from that moment on, on the basis of a dream from God. He was willing to take the shame that came his way, because of the name of the child… the world needs more men like that!
And from then on, even though his world just got a lot more complicated – Joseph had Peace, because he knew – God knew what he was doing. Whenever I need PEACE – he's called the Prince of Peace.
And finally, his name is…
Jesus, because I need a SAVIOUR.
So do you.
You can have all the fun bits you THINK you need – telly and turkey and tinsel// and all of that is GREAT! We love all that – but you can have it all// and YET… you're missing out on the real gift of Christmas…
What you need most – even if you think you don't – is a Saviour. To save you from your sins! To break the chains, cleanse the stains, ease the pains of the past.
You need a Saviour today – so God sent Him. His name is Jesus. The angel told them they had no choice! Because the real dad had already picked the name! It was an ordinary name in that place and time, but it means, "God to the rescue! God-come to Save!" There couldn't be any other name earthly name! So when Mary looked her baby and Joseph stroked his face, every time, every day he grew up, they said his name, his call, his purpose, and his destiny – all in one breath: 'JESUS.'
And it says, 'he's come to save his people from their sins.'
Let me ask: Are you his people?
His kind of people are sinners. He's called 'the friend of sinners!' That's what people called him when he'd grown up. Some people rejected him because they thought they were good people – good enough not to need him.
Jesus said, "I'm like a Doctor – only the sick need a doctor – I didn't come to call the healthy, but Sinners to repentance!' Only sinners come to the Saviour. Are you his people? You don't qualify by being good enough – just by being saved by the Saviour.
LOOK AT THE RESPONSE CARD IN YOUR SEAT… Im inviting you to pray in a few minutes, then fill that in and put it in offering.., and we want to give you a free gift when you fill that in so you can find out more in the New Year about this…
God has a gift for you… this Christmas. You're not here by accident. God loves you and has plans for your life… you can know him, connect to that – it can start tonight – ask Jesus to come to the rescue, to forgive and save you from your sins – and you can know his amazing love forever!
What's his name? The passage tells us about one more name Isaiah had written all those years before. Jesus is Wonderful when I need a Counselor, he's mighty when I need a God who can do miracles! His love is everlasting! He's the Prince of Peace! He's God to the rescue for sinners who know they need a Saviour!
And if you ask him to be – his name is:
IMMANUEL which means, 'God with us.' God wants to be with you. That's what Christmas means,
The lead singer of U2, Bono, talking about a midnight mass he went to in Dublin years ago, he said, "It dawned on me for the first time. The idea that God would seek to explain himself is amazing enough. That he would seek to explain himself by becoming a child born in straw poverty, I just thought: 'Wow!' I was just sitting there; tears came down my face, and I saw the genius of this. Love needs to find form; intimacy needs to be whispered. There must be an incarnation".
Have you ever had that Wow moment? We don't get enough of them. Don't grow out of WOW! We moan about the prices instead of counting our blessings. We end up complaining about the snow rather than going WOW! And getting on a sledge!
Why did Christmas happen? Isaiah saw it – … IMMANUEL.. God loves us so much he wanted to be with us! Why did God become a baby, a boy, a man? Because He wanted YOU to know his love. To bring light into your darkness! To make his counsel, his wisdom, his power, his peace, he has pursued you from heaven to make his salvation available FOR YOU!
So what do you do with that offer- from God to you? (PAUSE)
What will YOU do with it?
Any gift that's offered to you, this Christmas or any other time- you decide what you do with it. Love – real love, always risks rejection. It can't be forced.
Joseph could have rubbed his eyes and dismissed the dream. Mary could have refused God's invitation and mission. But they said, "WOW!" Yes please. You can too, let me tell you how. We connect to him through prayer.
(Let's pray). Someone here – You've been looking around at the world thinking, where on earth – is God?
The God you've been looking for – has come looking for you.
He knows your name, and now you know His!
Do you need Counsel? Ask him, he's wonderful!
Do you need a miracle? Ask him! He's Mighty God.
You need LOVE? Ask for the LOVE of an everlasting father!
Ask the Prince of PEACE, ask him to forgive you and SAVE you from your sins, ask JESUS, ask IMMANUEL – to be with you tonight , and tomorrow and… he's already promised – he'll be with you always.