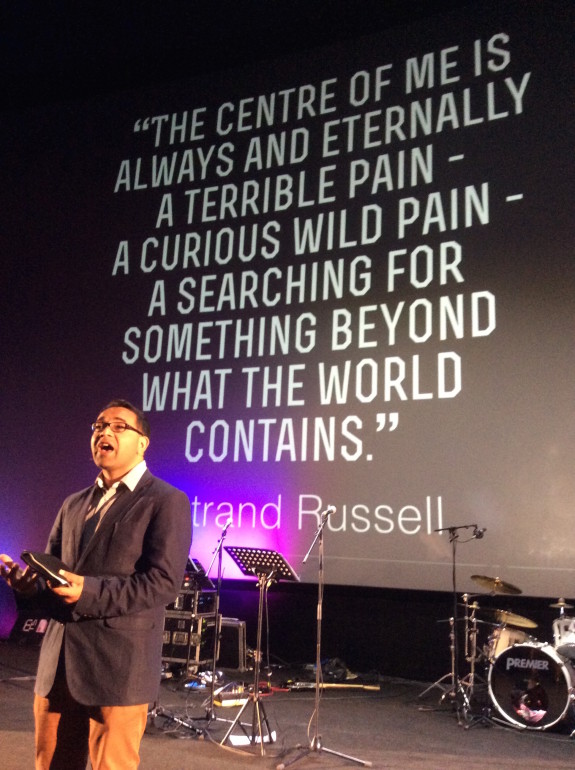 Everyone on the planet is on a search for joy, but paradoxically most of those searching for it end up with broken lives and disappointment.
Bertrand Russell had lots of money, sex and power, yet said 'The centre of me is always and eternally a terrible pain – a curious wild pain – a searching for something beyond what the world contains.'
Where do you find what he (and everyone else) was looking for?
Well CS Lewis said, "If I find in myself desires which nothing in this world can satisfy, the only logical explanation is that I was made for another world."
Do you find yourself longing for home? Lonely in a crowd? You were made for more! You were made for joy!
Joy that's not dependent on circumstances. 
Krish once lived in Albania. He saw an eagle – the national bird – but it was in a cage, slowly disintegrating itself because of being bound in its circumstances.
The apostle Paul was not confined by his circumstances. We can learn from him.
Paul was in prison when he wrote those words to the Philippian church.
12 I want you to know, brothers, that what has happened to me has really served to advance the gospel, 13 so that it has become known throughout the whole imperial guard and to all the rest that my imprisonment is for Christ. 14 And most of the brothers, having become confident in the Lord by my imprisonment, are much more bold to speak the word without fear.
15 Some indeed preach Christ from envy and rivalry, but others from good will. 16 The latter do it out of love, knowing that I am put here for the defense of the gospel. 17 The former proclaim Christ out of selfish ambition, not sincerely but thinking to afflict me in my imprisonment. 18 What then? Only that in every way, whether in pretense or in truth, Christ is proclaimed, and in that I rejoice.
To Live Is Christ
Yes, and I will rejoice, 19 for I know that through your prayers and the help of the Spirit of Jesus Christ this will turn out for my deliverance, 20 as it is my eager expectation and hope that I will not be at all ashamed, but that with full courage now as always Christ will be honored in my body, whether by life or by death. 21 For to me to live is Christ, and to die is gain. 22 If I am to live in the flesh, that means fruitful labor for me. Yet which I shall choose I cannot tell. 23 I am hard pressed between the two. My desire is to depart and be with Christ, for that is far better. 24 But to remain in the flesh is more necessary on your account. 25 Convinced of this, I know that I will remain and continue with you all, for your progress and joy in the faith, 26 so that in me you may have ample cause to glory in Christ Jesus, because of my coming to you again.
27 Only let your manner of life be worthy of the gospel of Christ, so that whether I come and see you or am absent, I may hear of you that you are standing firm in one spirit, with one mind striving side by side for the faith of the gospel, 28 and not frightened in anything by your opponents. This is a clear sign to them of their destruction, but of your salvation, and that from God. 29 For it has been granted to you that for the sake of Christ you should not only believe in him but also suffer for his sake, 30 engaged in the same conflict that you saw I had and now hear that I still have.
He could be in that cage thinking 'Why am having my potential impact contained and stopped in here.' He could have given up and given way to that frustration.
But he doesn't let anything stop him –
He says even though he's in prison – it's an opportunity
Every soldier he's chained to, gets to hear the gospel – and they spread it inside and outside the walls
And the brothers & sisters around are being encouraged
And the Philippians are encouraged
And now we are!
Joy Can Be Found In The Strangest Of Places (vs 12-14)
That's why this joy is Unstoppable.
It can be found in a prison cell and not bound in it! Like those in the suffering church who continue to preach to great effect in the prisons they are placed in.
Joy Can Be Found In The Strangest Of People (15-18)
Krish's stood for London mayor, someone else pinched his platform sound bite, 'I'm here for the car less and the homeless and the jobless.'
Most of us would have been furious!  But he said, 'That's great – because the issues are getting out there, and that's what matters.'
Would we be like this?
If the church down the road sees more converts? we building empires or Kingdom?
Joy Can Be Found In The Strangest Of Times (v 19-26)
It's not, 'heads you win, tails you lose.' It's a Win-Win. Paul says, 'Death I win, life I win' – that's security, no matter what happens.
This is not escapist unreality. It would have been a terrible death, he was probably beheaded. But to him to live is Christ and to die is gain. 
Get that on your gravestone!
Live it out now!
Jim Eliot knew this when he said, "He is no fool who gives what he cannot keep, to gain that which he cannot lose."
Your life is not your own – you can't hold onto it, it's like trying to grab hold of an ice cube tighter and tighter.
But there is a way you can find joy that none can take away, only in Jesus Christ who laid down his life – so you can live now to the full.
Those of us who know it, have something so precious: what do you put in front of him in your search for joy? Why chase other things for joy we know never satisfy!?